---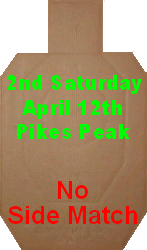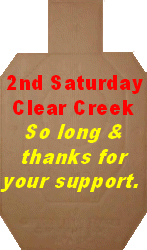 Ammo
Requirements
2nd Sat / 3rd Sun
4 stages / 5 stages
ESP, SSP, PCC
124 / 155 rounds
(31 rounds per stage)
CDP
100 / 125 rounds
(25 rounds per stage)
ESR, SSR, BUG-R
96 / 120 rounds
(24 rounds per stage)
CCP, BUG-A
96 / 120 rounds
(24 rounds per stage)
Side Match Ammo
Ammo requirements will be posted on the website during the week preceding the match
---








---




Click for weather forecast

---
| | | |
| --- | --- | --- |
| | FRIDPA Announcements | |
Pikes Peak Club House Check-in
Starting Sunday, March 19, 2017
The new check-in procedure:

1. ALL shooters must stop at clubhouse on their way to range to sign in and receive a colored wristband as proof they have done so.
NOTE - Leo has stated that the clubhouse will be open at 6 a.m. to accommodate the set-up crew who usually start arriving at ~6:30 a.m.
2. Shooters who fail to stop and sign in/receive a wristband will be sent back to clubhouse to do so.

3. FRIDPA's normal match registration/payment, etc. will occur at the range with the sole addition of verifying that the shooter has a wristband of the correct color.
| | | |
| --- | --- | --- |
| | 2017 Rules | |
Starting March, 2017, Front Range IDPA will conduct all matches utilizing the IDPA 2017 rules.
Starting March, 2017 all Classifiers will also use the the new 2017 rules.
Ammo will be chronographed follow link for details.
Pistol Caliber Carbine will be allowed at all matches including the Classifier using these rules - PCC
When IDPA releases updated PCC rules they will take precedence.
A synopsis of the changes/additions to the IDPA 2017 rules.
2017_Rule_Changes (available soon)
| | | |
| --- | --- | --- |
| | Front Range IDPA© Match Results | |
Email Results

If you would like to get match results via email please send an email to
Subject Line - FRIDPA Match Results Email Request

Body - Your first & last name with contact phone number and if you are an SO please indicate by placing " - SO" after your last name
| | | |
| --- | --- | --- |
| | Welcome to the Front Range IDPA© Website | |
The International Defensive Pistol Association (IDPA) is the governing body of a shooting sport that simulates self-defense scenarios and real life encounters. It was founded in 1996 as a response to the desires of shooters worldwide. The organization now boasts membership of more than 20,000, including members in 50 foreign countries.

One of the unique facets of this sport is that it is geared toward the new or average shooter, yet is fun, challenging and rewarding for the experienced shooter. The founders developed the sport so that practical gear and practical guns may be used competitively. An interested person can spend a minimal amount on equipment and still be competitive.

The main goal is to test the skill and ability of the individual, not equipment or gamesmanship. "Competition only" equipment is not permitted in this sport
The firearms are grouped into seven (7) divisions:
1) CDP - Custom Defensive Pistol (.45ACP semi-automatics only)
2) ESP - Enhanced Service Pistol (9mm (9x19) or larger caliber semi-automatics)
3) SSP - Stock Service Pistol (9mm (9x19) or larger caliber double action, double action only, or safe action semi-automatics)
4) CCP - Compact Carry Pistol (9mm (9x19) or larger caliber, semi-automatics, barrel 4.1" or less)
5) REV - Revolver 2 sub-divisions (Both barrel 4.25" or less, Stock Revolver, .38 caliber or larger double action revolvers; Enhanced Revolver)
6) BUG - Back-Up Gun 2 sub-divisions (Semi-Automatic, .380ACP or larger, barrel 3.61" or less; Revolver, must comply with all Stock Revolver rules)
7) PCC - Pistol Caliber Carbine (Single or double action semi-automatic firearms)
See Rule 8.2 Firearm Divisions for details about the delineations in the divisions.
FRIDPA encourages shooters to practice their gun handling skills with commonly carried firearms. Many everyday carry firearms do not fit into the 7 competition divisions so another division is supported:
SPD - Specialty Division (All firearms must be safe and serviceable. This division allows cartridges smaller than 9 mm, carry optics, activated lasers, non-illuminated mounted lights, and other pistols which do not fit into the other competition divisions. All other IDPA equipment rules apply for holsters and loading device holders as well as their placement on the body)
Shooters are then classified by like-skill levels with progression from Novice (NV); to Marksman (MM); to Sharpshooter (SS); to Expert (EX); and, finally, to Master (MA).
| | | |
| --- | --- | --- |
| | Match Cancellation Procedure | |
We will post a cancellation notice on our website ( www.fridpa.com ), in our forum (https://www.ar-15.co/forums/114-Shooting-Sports-and-Events ) and send out emails (once you attend your first match and have requested to be added to our email list). We try to make the Go/No Go call the night before the match so check the website/forum for cancellations the night before the match and before you head out to the match on the morning of the 2nd Saturday & 3rd Sunday.
In order to participate in Front Range IDPA matches, shooters will need to have either:
Attended and passed a MATCH CONDUCT SAFETY COURSE©,
MANDATORY
Match Conduct Safety Course

©
Shooters new to FRIDPA must attend a full Match Conduct Safety Course©

Match Conduct Safety Course© is held at 7:30am before each match.

Late arrivals for the course are not allowed to join the course in progress nor shoot the match.
OR hold a current USPSA (IPSC) classification (IPSC/USPSA Safe Shooter course will now be accepted if your card is dated AFTER May 1st, 2000),

OR has shot IDPA matches elsewhere that has a safety program acceptable to Front Range IDPA© and the Match Director there could be contacted for verification.
| | | |
| --- | --- | --- |
| | Camera Policy | |
Front Range IDPA© has a camera policy that if a non-shooter/non-member wants to come to a match and take pictures, movies, likenesses, etc., of the match/shooters, they must seek and obtain prior approval from Front Range IDPA© B.O.D.

Also, if prior permission to trespass on a given range is granted by Front Range IDPA©, this shall not be construed as permission to take photographs, movies, likenesses, etc., of any individual shooter without their own verbal or written permission.

If you are a Front Range IDPA© shooter/member, ask permission before taking photos/movies of your fellow shooters. If someone/organization shows up at a range during our matches to take photographs, movies, likenesses, etc., without obtaining prior permission from Front Range IDPA©, they will be asked to leave immediately.
| | | |
| --- | --- | --- |
| | Course of Fire Submission | |
FRIDPA encourages members to submit Courses of Fire, when your CoF is used you shoot that match free. Please use the sample CoF as an example of the format required. Please refer to the 2017 Rulebook for guidelines of CoF design. Please submit your CoF to CoF@FRIDPA.com
---
The 4 rules of gun safety

The 1st Rule of Gun Safety - The Gun Is Always Loaded!
The 2nd Rule of Gun Safety - Never Point A Gun At Something You're Not Prepared To Destroy!
The 3rd Rule of Gun Safety - Keep Your Finger Off The Trigger Until Your Sights Are On The Target!
The 4th Rule of Gun Safety - Always Be Sure Of Your Target And What Is Behind It!
---
COLD RANGE
All matches at FRIDPA are conducted using a COLD RANGE.
Firearms must be:
1. unloaded
2. holstered or bagged at all times
3. hammer/striker down on a empty chamber/empty cylinder
4. no magazine inserted
You may only handle your firearm at the direction of a Safety Officer (SO) or in the designated Safe Area. You may not handle any ammunition or loaded magazines in the Safe Area.
Violation of the COLD RANGE will result in a match disqualification.
---
MANDATORY
Match Conduct Safety Course

©
Shooters new to IDPA must attend a full Match Conduct Safety Course©; late arrivals for the course are not allowed to join the course in progress nor shoot the match.
---